What are the symptoms of guttate psoriasis?
Guttate psoriasis symptoms develop suddenly, usually following a viral or bacterial infection such as strep throat or an upper respiratory infection. Reddish or pink skin lesions in the shape of a teardrop appear on the skin, most commonly on the trunk of the body, arms, and legs but sometimes in other areas. The lesions may be covered with scales (flaky, silver-colored skin) and might itch. Symptoms of guttate psoriasis can be more severe in individuals with weak immune systems requiring strong medications to suppress the immune system.
Continue Learning about Plaque Psoriasis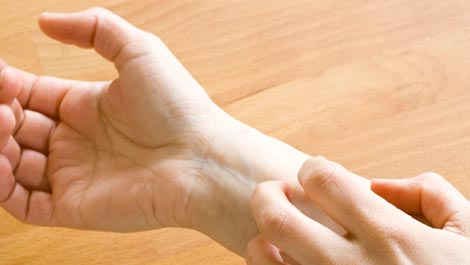 Plaque psoriasis is an incurable disease of the immune system. It varies by person but typically appears as lesions, inflammation, and redness on the scalp, torso, knees and elbows. Although researchers do not know what causes pso...
riasis, there are treatments to lessen the severity, such as topical steroid and non-steroid creams and ultraviolet-light therapy. Learn more from our experts about psoriasis.
More