Often, plaque psoriasis first starts on the scalp, elbows or knees. It can also show up on the face and on the trunk of the body. There may be small areas of plaques or large areas. There may be plaques in just a few places or all over. People may even have psoriasis on their fingernails.
In the early stages, psoriasis may be unnoticeable. The skin or scalp may itch or burn.
Plaque psoriasis usually first appears as small red bumps, which gradually enlarge, and form into scales. While the top scales flake off easily and often, scales below the surface stick together. The small red bumps develop into plaques, which is what doctors call the reddish areas of raised and thickened skin.
The symptoms of plaque psoriasis, also called psoriasis vulgaris, include raised, inflamed, red lesions covered by silvery-white scales.
Plaque psoriasis is typically found on the elbows, knees, scalp, and lower back.
Plaque psoriasis is the most prevalent form of psoriasis, making up about 80 percent of psoriasis cases.
Continue Learning about Plaque Psoriasis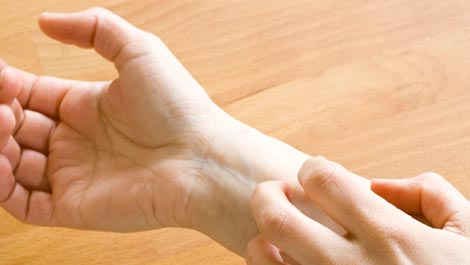 Plaque psoriasis is an incurable disease of the immune system. It varies by person but typically appears as lesions, inflammation, and redness on the scalp, torso, knees and elbows. Although researchers do not know what causes pso...
riasis, there are treatments to lessen the severity, such as topical steroid and non-steroid creams and ultraviolet-light therapy. Learn more from our experts about psoriasis.
More