Summer is a great time for kids—but it may lead to psoriasis flares. Learn how summer can impact your child's skin.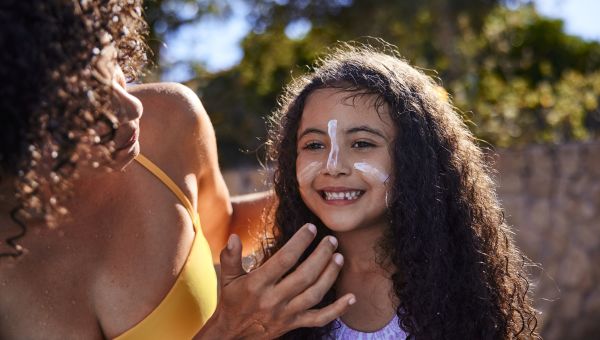 Summer is a time that many children look forward to—with school out and the weather warm, kids have ample time to play, enjoy the outdoors, and relax. But if your child has psoriasis, summer may also impact their psoriasis management.
According to the National Psoriasis Foundation, many people with psoriasis experience summertime flares. Although the summer months can improve psoriasis due to increased sunlight and humidity, air conditioning can dry out skin, and many typical summertime activities can trigger psoriasis symptoms.
Summertime do's and don'ts for psoriasis
These tips can help your child avoid flares and have fun during the summer season:
Keep your child's skincare routine consistent. Even if your child's skin is clearer in the summer, it's still important to help them stick to their treatment plan. This includes any topical or oral medications your child takes, as well as moisturizing after a bath, shower, or swimming. Moisturizing can also counter the drying effects of air conditioning.
Get the right summer gear. Clothes made from breathable fabric like cotton will help keep your child cool, and light-colored clothes absorb less heat. A hat and sunglasses are also good, since heat and sweat can trigger psoriasis.
Let your child enjoy the sun—but not too much. While being out in the sun can be good for the skin, a sunburn can trigger psoriasis symptoms. Children should avoid being exposed to direct sunlight for extended periods of time. If you'll be outdoors for an outing, bring a beach umbrella or a tent that provides shade. Some psoriasis medications can cause the skin to become more photosensitive, which increases the risk of sunburn—this may be something you want to check with your child's pediatrician.
Slather on the sunscreen when your child goes outside. Talk to your child's dermatologist about the best sunscreens to use. In general, fragrance-free sunscreens that are made for sensitive skin, have a Sun Protection Factor (SPF) of 30 or more, and that have "broad spectrum" on the label are best.
Prevent bug bites. Bug bites can trigger psoriasis as well. Look for a chemical-free bug spray and apply it to your child's clothes instead of spraying it directly on their skin. Long sleeves and pants can also protect against bugs.
Be mindful of the water when your child goes swimming. Swimming is a time-honored summertime tradition for kids. If your family is going to the ocean, know that swimming in salt water can help improve the appearance of your child's skin by removing dead skin cells. But salt water—and chlorinated pool water—can both dry out skin, too. Once your child is finished swimming, have them rinse off in a shower and moisturize.
By following these steps, you can help your child make the most of their summer—while keeping their psoriasis under control.
Medically reviewed in July 2021.
Sources:
National Psoriasis Foundation. "Taking Care of Your Skin in Summer."
Verum Cutis Dermatology. "Summer Tips for Psoriasis."
Jenna Fletcher. "Psoriasis: What is the Koebner phenomenon?" Medical News Today. June 18, 2019.
American Academy of Dermatology Association. "Psoriasis: Tips for Managing."
KidsHealth.org. "Psoriasis."
Jayakar Thomas and Kumar Parimalam. "Treating pediatric plaque psoriasis: challenges and solutions." Pediatric Health, Medicine and Therapeutics, 2016. Vol. 7.
PlaquePsoriasis.com. "Clothing & Makeup Choices." May 21, 2016.
National Psoriasis Foundation. "Don't Forget Your Sunscreen."
National Psoriasis Foundation. "Causes and Triggers."
Morgan Meissner. "Salt water, chlorine, and swimming: How water activities can affect psoriasis." Medical News Today. May 12, 2021.