Halibut is one of the safest fish to eat as far as mercury contamination is concerned. It contains some fat, but mostly the heart healthy monounsaturated and polyunsaturated kind. It's also very high in selenium, which is needed for the proper functioning of some of the body's detoxification enzymes that prevent DNA damage from free radicals and toxins. A 5.5 oz/155 gram (approximately ½ of a fillet) fillet of Atlantic or Pacific Halibut provides 220 calories, 42 grams of protein, 0 grams of carbohydrates and 5 grams of fat (no saturated fat and 40 calories from fat).
Halibut is an excellent source of protein, potassium, selenium, and vitamin B12. In addition, it is a very good source of vitamin B6, niacin, and phosphorous. A 31/2-oz (100 g) serving contains approximately 140 calories, 27 g of protein, 41 mg of cholesterol, and 2.9 g of fat, with 100 mg of EPA and 375 mg of DHA omega-3 fatty acids.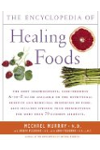 More About this Book
Encyclopedia of Healing Foods
From the bestselling authors of The Encyclopedia of Natural Medicine, the most comprehensive and practical guide available to the nutritional benefits and medicinal properties of virtually everything...
Continue Learning about Protein