Choose nuts, beans, tofu and other soy-based products, chicken, fish, and lean cuts of meat to meet your body's need for protein. These foods are high in protein and other nutrients but low in saturated fats.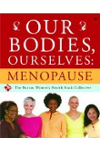 More About this Book
Our Bodies, Ourselves: Menopause
FROM THE EDITORS OF THE CLASSIC "BIBLE OF WOMEN'S HEALTH," A TRUSTWORTHY, UP-TO-DATE GUIDE TO HELP EVERY WOMAN NAVIGATE THE MENOPAUSE TRANSITION For decades, millions of women have relied on Our...
Healthy protein sources should include lean protein foods. Much of the cholesterol and saturated fat that we consume comes from higher fat protein sources, therefore I order to reduce our risk for heart disease, and lean protein food is the best choice. Additionally, if we reduce the fat content of a food, we will also reduce the calorie content which is helpful for weight management. Suggestions for healthy protein choices are:
Greek yogurt
Reduced fat cheese
Low fat or fat free milk
Roasted Soynuts
Edamame
Nut butter (peanut, almond, etc.)
Lean beef
Fish like tuna and salmon
Grilled chicken breast
Beans
Some healthy protein sources include lean steak, white meat chicken or pork, any type of fish, tofu and plant-based proteins, nuts, seeds and eggs. Watch weight loss specialist Caroline Apovian, MD, discuss sources of protein for a healthy diet.
The most healthy protein sources are plant-based, including almonds, lentils, quinoa and pumpkin seeds -- which are alkaline-forming and reduce inflammation. Watch exercise physiologist Marco Borges share some of his favorite protein options.
Continue Learning about Protein