Protein needs vary depending on the individual's lean body mass, activity and caloric intake. Protein is required for tissue repair and building as well as for energy. The Recommended Dietary Allowance (RDA) for protein is 0.8 grams per kilogram of bodyweight per day or 15 to 30% of total caloric intake. Protein needs increase for individuals participating in bodybuilding, active recreation or endurance sports. These needs range between 1-2 grams per kilogram of bodyweight per day.
The daily recommendation for protein intake is 0.8 to 1 gram/kilogram body weight. This means that 180 pound (82 kilograms) person should eat 81 grams of protein daily. This amount should be consumed in 3 to 7 servings of proetin, including dairy products, daily. This gives you the right amount of protein and amino acids.


Protein needs vary based upon your age, gender, activity level etc. In general, an adult man needs ~56 g protein/day and adult woman needs ~46 g/day. According to the CDC most Americans get enough protein by eating a balanced diet. Meeting your daily protein needs can be fairly simple. For eg., 1 egg provides ~7 g protein, 1 cup of cooked beans provides ~14 g protein, 3 oz. of chicken or fish provides ~21 g protein, 1 cup of milk provides ~9 g protein.
Think Goldilocks: not too much, not too little, but juuuust right. What that means is getting the right amount of protein in your meals. Go for serving sizes of 3 to 4 ounces of fish or poultry. Half a cup of cooked beans. Two tablespoons of peanut butter. Eight ounces of non-fat milk and yogurt. Replacing high-fat protein like cheese, beef and lamb with low-fat protein like fat-free cheese, chicken and tofu may help your brain and your waistline. A multiethnic study in Canada found that people who substituted a small amount of healthy protein (e.g., chicken or fish) for carbohydrates (bread, cookies) showed a reduction in their waistline. Instead of having a corn muffin the size of a Volkswagen for breakfast, have a whole-wheat English muffin with peanut butter.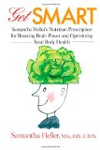 The following are targets for how much protein you should eat:
Aim for 2 to 3 servings (about 4 to 6 ounces) of protein every day -- from a variety of plant and animal sources.
Limit portion sizes of meat to 3 ounces (about the size of a deck of cards or the palm of your hand).
Eat fish 2 to 3 times a week.
Continue Learning about Protein