Generally speaking, the fat content for animal proteins goes like this: pork is the highest, then beef, lamb, chicken and turkey, and fish is the lowest. However, some types of fish, such as salmon, are more fatty. Fat content also varies within meat types, depending on the cut and grade. For example, white meat chicken is lower in fat than dark, and round and loin cuts of beef and pork are the most lean. Also, cutting off most of the visible fat before cooking significantly reduces the amount of saturated fat you eat, as does removing the skin on poultry.

Although not usually a favorite with most kids, fish is perhaps the most beneficial choice in the protein group. It contains all the benefits of a high-protein food without most of the saturated fat found in beef, pork, and poultry, and it has important heart-healthy omega-3 fatty acids. Omega-3 fats decrease blood levels of triglycerides, inhibit inflammation, help prevent the formation of arterial plaques, and improve blood vessel function. With all these benefits, try to work seafood items such as salmon, oysters, herring, and cod into your family's menu at least a few times a month. According to recent research, even eating fish as seldom as 3 times per month is enough to have a beneficial effect on health.

From Good Kids, Bad Habits: The RealAge Guide to Raising Healthy Children by Jennifer Trachtenberg.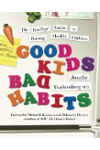 Continue Learning about Protein