The foods richest in proteins come from the animal kingdom. Their most abundant source is meat.

Among animal meat, beef is especially high in protein. The leaner cuts are extremely low in fat, but just as rich in protein. Mutton and lamb are visibly more marbled, and this fat reduces their protein content. Finally, some cuts of pork, which are even fattier, are not rich enough in protein to belong to the elite group of protein foods.

Organ meats like liver, kidneys, tongue, sweetbreads, chicken hearts, and tripe are very rich in protein and low in fat and carbohydrates. However, liver contains a small dose of sugar.

Poultry, with the exception of domestic goose and duck, is a relatively lean meat very rich in protein, especially turkey and chicken breast.

Fish, particularly lean white-fleshed fish like sole, skate, cod, sea bass, or tilapia, are a gold mine of proteins with a very high nutritional value. Cold-water fish such as salmon, tuna, sardines, and mackerel have fattier flesh, which slightly reduces their protein content, but they nevertheless remain excellent sources of protein and greatly promote cardiovascular health.

Shellfish and other types of seafood are lean and carbohydrate-free, and rich in protein. Some, like shrimp and scallops, are often not allowed on weight loss diets because of their high cholesterol level, but that substance is concentrated in the "coral" (eggs or ovaries) of the animal's head and not its flesh, which means that you can eat shrimp, crab, and lobster without restriction as long as you take the precaution of removing the coral first.

Eggs are an interesting source of protein. The yolk contains fats and enough cholesterol that should you be predisposed to high cholesterol, you should avoid excessive consumption of the yolk. On the other hand, egg white is the purest and most complete known form of protein, which gives it the status of benchmark protein, as it is used to classify all other proteins.

Plant proteins are found in most cereals and legumes, but these are far too rich in carbohydrates to be included in a diet whose effectiveness depends on the purity of proteins. Furthermore, apart from soy, these plant proteins are desperately short of certain vital amino acids, so they cannot be used exclusively over a prolonged period of time.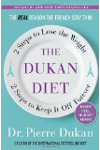 Foods that are good sources of protein include:
Dairy/dairy substitutes: eggs, egg substitute
Meat: fish; shellfish (fresh or canned in water); poultry, chicken, or Cornish hen (breast only), turkey, leg of lamb, lean cuts of beef (go for grass-fed beef wherever possible)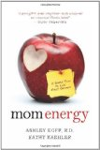 More About this Book
Mom Energy: A Simple Plan to Live Fully Charged
       From celebrated dietitian Ashley Koff and fitness trainer to the stars Kathy Kaehler comes Mom Energy, an exciting new way for moms to tap into their own natural and renewable sources of...
Foods high in protein include:
Beef
7 grams of protein per ounce
Chicken
Breast: 30 grams per 3.5 ounces
Thigh: 10 grams per ounce
Drumstick: 11 grams per ounce
Wing: 6 grams per ounce
Fish
Pork
Chop: 22 grams per 3 ounces
Ham: 19 grams per 3 ounces
Bacon (1 slice): 3 grams
Ostrich
Eggs/Dairy
Large egg: 6 grams
Milk (1 cup): 8 grams
Yogurt (1 cup): 8-12 grams
Beans/Nuts
Most beans: 7-10 grams per 1/2 cup
Peanut butter (2 tablespoons): 8 grams
Almonds (1/4 cup): 8 grams
Peanuts (1/4 cup): 9 grams
Pumpkin seeds (1/4 cup): 19 grams
Fitness After 40: How to Stay Strong at Any Age
If you are looking for protein, be thankful because you have many many choices of foods to include in your daily meals.
Beef
Venison
Elk
Buffalo
Lamb
Chicken Breasts (no skin!)
Turkey
Salmon
Tuna
Trout
Egg Whites (but go easy on the yolks)
Milk
Yogurt (Chobani Greek Yogurt is the best)
Peanuts
Almonds
Walnuts
Pumpkin Seeds
Protein will not be a problem if you come even vaguely near a healthy diet . . . especially if you force yourself to like skim milk and other non-fat dairy. (Give it a month.) Eat lots of fish, the oilier the better. Eat white meat chicken, too: not as great as fish, but much better than red meat. Obviously, you're going to eat some red meat -- it does taste wonderful -- but take it easy. Eat much, much less, and get it as lean as you can, especially for burgers. In fact, start thinking of meat as a flavoring rather than a staple; a little bit goes a long way.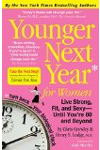 Continue Learning about Protein