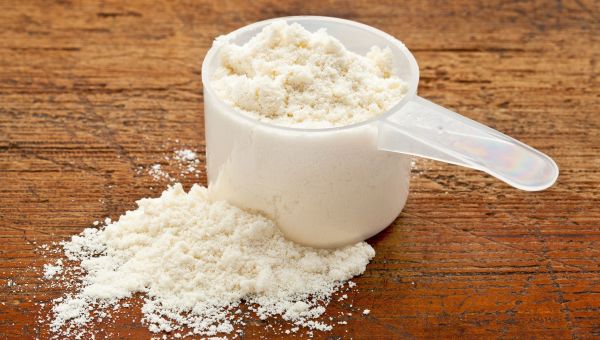 Our experts give you the rundown on whey supplements.
A new study from Canada's McMaster University says whey protein supplements can help prevent age-related loss of muscle mass, especially for older folks who get sidelined because of an operation, illness or injury.
Whey, the liquid part of milk that separates during cheese production, is packed with all nine essential protein-building amino acids. And it does more than build muscle. It also provides a quick hit of long-lasting energy, helps suppress your appetite and controls blood sugar. The study shows it does its magic while you're inactive (on bed rest, say), but we say it's most effective when coupled with strength-building exercise two to three days a week. And it should supplement, not substitute for, high-quality, food-based proteins such as legumes, whole grains and Dr. Mike's favorite, salmon burgers.
There are three powderized kinds:
Whey Protein Concentrate (WPC): 30 to 90 percent protein with low levels of carbohydrates and fat.
Whey Protein Isolate (WPI): 90 percent protein with 0.5 percent fat or lactose.
Whey Protein Hydrolysate (WPH) is "pre-digested" and is absorbed the fastest. They make great shakes. Go to DoctorOz.com for recipes; it's Lisa Oz's favorite protein booster.
To discover if you need a whey product, talk to your doc or a nutritionist. They can help you determine how much you should be taking, given your goals.
Medically reviewed in November 2019.