Two general nutrition concerns apply strongly to the category of ready-made protein bars and shakes: unnecessary processing and unnecessary use of preserving agents. For example, if you're consuming a bar with nuts and dried fruit, why not just choose an apple with some nuts or nut butter instead? The difference in calories and nutrient balance can be significant, For starters, many bars' carbohydrate content is too much (two to four servings) while its protein content is minimal -- not even one serving. Many bars are high on the glycemic index, meaning they will stir a spike in blood sugar, and this is often due to lots of dried fruit -- not necessarily added sugar. They often don't give you enough to eat from a practical standpoint. You eat three to five bites quickly and don't register a full signal, so you seek something else to satisfy you, which can then throw your nutrient load overboard.

Also, many of these items contain nonorganic versions of fruit that should only be eaten from organic sources. They further may contain processed or chemical ingredients and isolated soy protein (remember: if eating soy, eat the whole non-genetically modified (GMO) bean to get the protein, fiber, and healthy fats). The excuse of "a bar is for convenience" has gone too far. How inconvenient is an apple and some nuts? This is what many bars purport to be, but then again, you get fiber and water and phytonutrients from the skin of the apple, which you probably won't get in the bar.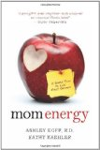 More About this Book
Mom Energy: A Simple Plan to Live Fully Charged
       From celebrated dietitian Ashley Koff and fitness trainer to the stars Kathy Kaehler comes Mom Energy, an exciting new way for moms to tap into their own natural and renewable sources of...
Continue Learning about Protein