While the body needs protein daily, it can get too much. The body does not store excess protein and the process for removal requires the liver and kidneys to work hard at removing these larger molecules. These organs are adept at doing so, but if it becomes a longstanding pattern or if they are in a weakened state, this can prove challenging to them and they may signal their displeasure by working less effectively or even going on strike. They can also lose their functionality if the body doesn't get sufficient carbs, in which case it uses protein for energy but creates significant waste.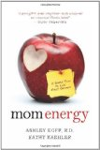 More About this Book
Mom Energy: A Simple Plan to Live Fully Charged
       From celebrated dietitian Ashley Koff and fitness trainer to the stars Kathy Kaehler comes Mom Energy, an exciting new way for moms to tap into their own natural and renewable sources of...
Continue Learning about Protein Body Impact