Soybeans are an excellent source of protein and molybdenum. They are a very good source of iron, calcium, phosphorous, and dietary fiber. In addition, soybeans are a good source of vitamins B1, B2, B6, and E and folic acid.

Soybeans are an especially important protein source, containing 38 percent protein. Soy flour is an even richer source of protein, typically containing 40 to 50 percent protein. Moreover, soy protein concentrates typically contain 70 percent protein, while soy protein isolates contain 90 to 95 percent protein. Compared to other legumes, soybeans are also higher in essential fatty acids, with a total fat content of 18 percent, and much lower in carbohydrates, at 31 percent.

Soybeans also contain a number of special health-promoting compounds, including phytosterols, lecithin, isoflavones and other phytoestrogens, and protease inhibitors.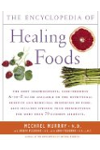 More About this Book
Encyclopedia of Healing Foods
From the bestselling authors of The Encyclopedia of Natural Medicine, the most comprehensive and practical guide available to the nutritional benefits and medicinal properties of virtually everything...
Continue Learning about Protein Body Impact