Soy foods are naturally low in calories, fat, and carbohydrates. Soy, the most complete vegetable protein, is also rich in vitamin E, fiber, calcium, magnesium, lecithin, riboflavin, thiamine, folic acid, iron and essential fatty acids. Here are some of the lean soy protein choices I recommend to patients:

- Edamame (beans in the pod)
- Miso (paste)
- Meat analogs (textured soy protein)
- Soybeans
- Soy cheese
- Soy flour
- Soy nuts
- Tempeh
- Tofu (soft: silken, firm, extra-firm)
- Tofu (water packed: firm or extra-firm)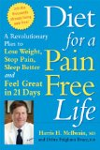 To use soy as part of a weight loss program, replace animal based foods with their soy counterpart. Soy can be found in grains (soy cereal, soy pasta, soy waffles, soy crackers, soy flour and soy bread). Canned soybeans, soynuts, or edamame, soy burgers, tofu, soynut butter, soy crumbles can be used as a protein source in a weight loss plan. Soy milk can be used in place of cow's milk but for weight loss, make sure there is less than 5 grams of fat per serving to be equivalent to a low fat milk.
Continue Learning about Protein and Weight Loss