A number of nutrients have been shown to improve prostate health, such as green tea (because of the polyphenols) and pomegranates.

In a study of men who refused prostate surgery, one group of men only did watchful waiting (which is having a doc observe a patient but not intervene unless it's requested), while the other group went on an aggressive plant-based diet and stress reduction program. Their diet was low in fat and rich in selenium, lycopene (found in tomatoes), and vitamin E.

The outcome: The latter group reduced their PSA levels by 40 percent, and none went on to surgery in a two-year period. Many in the control group required an operation, and their PSA levels remained elevated. After being on the healthy diet for 52 weeks, the men also had their blood mixed with prostate tumor cells (in a lab experiment), and the blood arrested the growth of the tumor cells. This did not happen with the normal population. Wow.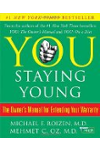 Continue Learning about Prostate