Despite many studies on the subject, there is currently no definitive proof that frequency of sexual activity reduces risk of prostate cancer. Studies have shown a slight reduction in risk, but not enough to be significant or conclusive. Sexual frequency certainly doesn't have the same impact on prostate cancer risk factors as age or genetic history, for example.
Continue Learning about Prostate Cancer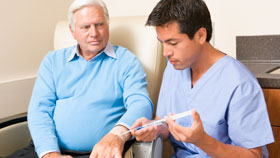 One of the most common cancers among men, prostate cancer can be very aggressive and spread to your bones and other organs. Cancer usually develops very slowly in the prostate gland, which produces fluid that helps create a man's ...
semen. If found early, when the cancer is confined only to the gland, prostate cancer is very treatable.
More