The farther the cancer spreads from the prostate, the harder it is to successfully treat. Stage 4 prostate cancer, unless detected early enough, can therefore be more difficult to treat since it has spread beyond the prostate. Once prostate cancer spreads to distant organs, a condition called metastatic prostate cancer, a cure is no longer possible.
Continue Learning about Prostate Cancer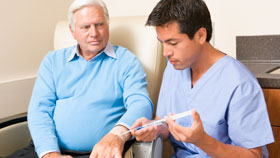 One of the most common cancers among men, prostate cancer can be very aggressive and spread to your bones and other organs. Cancer usually develops very slowly in the prostate gland, which produces fluid that helps create a man's ...
semen. If found early, when the cancer is confined only to the gland, prostate cancer is very treatable.
More