Stage 4 cancers are the most advanced and mean that the cancer has spread from the prostate to other parts of the body. Most commonly, stage 4 prostate cancer will demonstrate cancer in the bones. We do not completely understand why this is, but about 90% of men with stage 4 prostate cancer have cancer that has spread to the bones. Unfortunately, this can cause pain in the bones, and rarely may lead to fractures or compression of the spinal cord. Other places in the body where prostate cancer may spread includes lymph nodes in the abdomen in about a third of patients, and less commonly the lung and liver. Symptoms besides pain may include fatigue, change in appetite, weakness and urinary issues.
Fortunately hormone treatment can control stage 4 prostate cancer, often for years. It is not curative, but is effective in the vast majority of patients, at least initially.
Stage 4 prostate cancer primarily affects the male urinary and reproductive systems. Urinary problems can include difficulty starting and stopping urination or a weakened urine stream, feeling the need to urinate more than usual, blood in the urine, or a burning sensation during urination. Reproductive symptoms include difficulty achieving an erection or blood in the semen. Stage 4 prostate cancer can also cause pain in the bones and muscles of the pelvic area, such as the hips, thighs, and lower back, as well as swollen legs.
Continue Learning about Prostate Cancer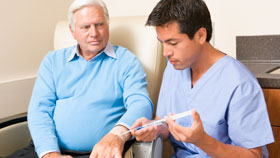 One of the most common cancers among men, prostate cancer can be very aggressive and spread to your bones and other organs. Cancer usually develops very slowly in the prostate gland, which produces fluid that helps create a man's ...
semen. If found early, when the cancer is confined only to the gland, prostate cancer is very treatable.
More