Medications such as hormonal therapy and chemotherapy are used to treat the symptoms of stage 2 prostate cancer. This treatment is called "palliative," meaning it is meant to ease the symptoms of the disease rather the get rid of it entirely. Because stage 2 prostate cancer is still contained within the prostate and has not spread to other parts of the body, treatment with medication at this stage is unusual; surgery to remove the diseased tissue is a much more common treatment option at stage 2.
Continue Learning about Prostate Cancer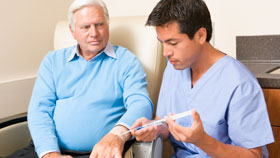 One of the most common cancers among men, prostate cancer can be very aggressive and spread to your bones and other organs. Cancer usually develops very slowly in the prostate gland, which produces fluid that helps create a man's ...
semen. If found early, when the cancer is confined only to the gland, prostate cancer is very treatable.
More