To find out if the spa is hygienic, go straight to the spa management and ask the following:

1. What do you use to disinfect instruments if someone has fungus on nails?

2. Do you have an autoclave or pressurized device that heats water above the boiling point in order to kill bacteria?

3. Are sheets changed after each treatment?

Spas should use an antibacterial cleanser as well as a sterilizer that reaches high temperatures to kill bacteria on any spa item that is used by clients. Disinfection with rubbing alcohol is not adequate!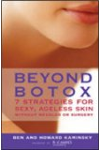 Continue Learning about Professional Beauty Treatments