When conception doesn't happen as quickly as you would like, things can get pretty stressful, pretty fast. You start focusing solely on reproduction and may lose sight of your relationship as a couple. That's normal.
If you've been trying to conceive for a year or more, though, you'll find yourself dealing with even more obstacles to a healthy sex life. Not only has the pressure to get pregnant skyrocketed, but the fertil­ity treatments you pursue can add a new wrinkle to an already difficult situation. Side effects like mood swings, bloating, and headaches can make women feel anything but in the mood.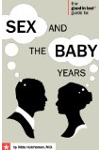 More About this Book
The Good in Bed Guide to Sex and the Baby Years
Available at a substantial discount for a limited time only, thanks to support from K-Y(R) Brand!Once you get down to the business of baby-making, the advice will pour in: books, magazines, in-laws,...
Continue Learning about Prior To Conception