The most common class of migraine medications, triptans, have not been shown to cause birth defects. The metabolism of this class of medications, or the way you clear the drug from your body, may be affected by the increased estrogen of pregnancy. Though no harm has been shown, this theoretical risk of toxic levels of triptans in a woman's system is enough that managing migraines in other ways is recommended once you know you are pregnant. Discuss with your health care provider if you should stop using triptans while you are trying to conceive.
The harmful effects of most medications on the developing baby are greatest at the beginning of pregnancy—often before you even realize you are pregnant. Therefore, it's best to start taking the treatments that are known to be safer during pregnancy for several months before trying to conceive. This time allows your body a chance to rid itself of any potentially harmful medications before you become pregnant.
Talk to your doctor about your headache treatment. You will need to:
Learn about safe and effective non-drug treatments that you can use to control headaches throughout your pregnancy and after delivery.
Make sure the headache medications you are using are safe for you to take when trying to get pregnant and throughout pregnancy. This reduces risks to the baby if you become pregnant while taking the medications.
Try to get your headache pattern under as good control as possible before you become pregnant.
Talk to your doctor before using any non-prescription medications and supplements to make sure they are safe during pregnancy.
Take a multivitamin with at least 400 micrograms of folate every day. This helps to prevent spinal cord defects.
Remember that there are many safe and effective non-drug and drug treatments for you to use throughout pregnancy. Making treatment changes before you become pregnant is the best way to provide the safest treatments for your developing baby and to make sure you have an effective treatment regimen in place to adequately control your headaches.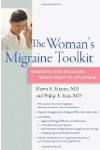 Continue Learning about Prior To Conception