As your body changes during pregnancy, you may need to try different sexual positions to find what is comfortable for you. Some women discover new or increased sexual pleasures during pregnancy because of such experimentation. "Spooning" while sitting up offers plenty of room for manual stimulation, side lying allows for comfortable oral stimulation and experimenting with pillows and support devices can help enhance and support a variety of positions and activities. Positions in which you face away from your partner can help with breast tenderness, as can wearing a sports bra.
By the time you are about halfway through pregnancy it may be uncomfortable to lay on your back during sex. If you feel sick or faint when on your back, it could be because the enlarged uterus is pressing on blood vessels in the lower part of your body. Be guided by how you feel and explore other positions to learn what makes you comfortable. Due to a sense of fullness, some women find vaginal penetration uncomfortable at some points during pregnancy and opt for manual, oral, or self-pleasuring sex instead. This can be a period to explore various kinds of touch and find creative ways to enjoy our sensuality. If you want to continue having intercourse, the following positions may be helpful:
Pregnant partner on top (This puts no weight on your abdomen and allows you to control the depth of penetration and clitoral placement.) rear-entry or side-lying positions
Face to face: sitting on a sturdy chair, edge of the bed, etc.
Whatever is fun, is safe, and feels good
Some cramping after making love is normal throughout pregnancy. Your uterus contracts during orgasm and these contractions might be more noticeable during pregnancy as the uterus gets bigger. It can feel as if your uterus gets hard for a few minutes. If you are past your due date and you want to induce labor, people may tell you that having sex will help. The evidence on this is mixed.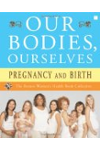 More About this Book
Our Bodies, Ourselves: Pregnancy and Birth
ALL THE INFORMATION YOU NEED TO MAKE WISE DECISIONS ABOUT YOUR PREGNANCY AND THE BIRTH OF YOUR CHILD -- FROM THE EDITORS OF THE CLASSIC "BIBLE OF WOMEN'S HEALTH" Pregnancy and birth are as ordinary...
Continue Learning about Prior To Conception