Cyclosporine (Sandimmune) is an immunosuppressant drug which has been successfully used to prevent rejection in transplant operations. It has also been proved effective in other autoimmune diseases, such as insulin-dependent diabetes. The drug is known to inhibit activity of T cells, so in theory it should be an effective therapy for multiple sclerosis (MS). Preliminary studies showed Cyclosporine to have questionable benefit in MS, but because it is such a valuable immunosuppressant in other situations, a twelve-center study funded by Sandoz Pharmaceuticals, Inc., its manufacturer, is now in progress in the United States and Canada. Although the drug does have a variety of side effects, it does not appear to increase the risk of cancer.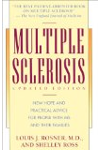 More About this Book
Multiple Sclerosis
Too often, multiple sclerosis is thought of only as "the crippler of young adults." But in fact, 75 percent of all people with MS will never need a wheelchair. In Multiple Sclerosis, Dr. Louis J....
Continue Learning about Preventing Multiple Sclerosis