Currently, the cause of multiple sclerosis is unknown, so there is no clear way of preventing the disease. Likewise, it is also not curable. However, although it cannot yet be prevented or cured, in a large majority of cases, the disease is not life threatening.
On another positive note, symptoms usually clear up completely during periods of remission and there are treatment options available to help manage your flare ups. Treatments can help to manage symptoms and slow the progression of the disease.The cause of primary-progressive multiple sclerosis (PPMS) is unknown and, similarly, there is no cure. The nature of the disease makes it difficult to diagnose, and many people who suffer from PPMS may not realize it until it progresses to the point of disability. Exercise and physical therapy can sometimes help people who suffer from PPMS by allowing them to maintain more mobility and flexibility.
No matter how much people exercise, how healthful their diet is or how well they take care of themselves, there is no way to prevent multiple sclerosis (MS). It affects people randomly. But it also is somewhat manageable. If detected early, medications may slow the progress of the disease and the severity of symptoms.
This content originally appeared on HealthyWomen.org.
Vitamin D deficiency is linked to higher rates of multiple sclerosis. Smoking is also linked to MS, explains neurologist Charles Smith, MD. In this video, he discusses MS prevention.
Scientists believe if they can learn either how to turn on cells that are underrepresented or turn off cells that are overrepresented, they'll be able to arrest multiple sclerosis (MS) in humans. Investigators in several research laboratories had dramatic results applying this theory to EAE in mice experiments. In January 1985 researchers from Stanford University announced they were able to turn off certain T cells, using a biotechnological advance called monoclonal antibodies. This halted the myelin damage of EAE in 90 percent of the mice within seventy-two hours and reversed early symptoms. In other studies, when mice were injected with anti-T-helper monoclonal antibodies before inducing EAE, the disease was prevented entirely.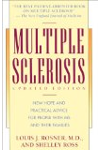 More About this Book
Multiple Sclerosis
Too often, multiple sclerosis is thought of only as "the crippler of young adults." But in fact, 75 percent of all people with MS will never need a wheelchair. In Multiple Sclerosis, Dr. Louis J....
Continue Learning about Preventing Multiple Sclerosis