Your health care team will be asking you to repeat your name and date of birth often. Don't get annoyed. Be thankful they're taking steps to make sure they're treating the right person.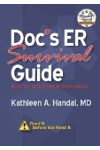 More About this Book
Doc's ER Survival Guide (DocHandal's Guides)
Few people get through life without at least one trip to the emergency room (ER), either as a patient or support person for a family member or friend. Doc's ER Survival Guide is designed to help...
Continue Learning about Preventing Medical Errors