To help reduce surgical complications it is Vital that you listen to all instructions from your surgeon and internist prior to the operation. Our patients are taken off medications that may thin the blood or reduce platelet aggregation (NSAIDs, Advil, Motrin, ASA). Hibiclens scrubs are given to the patient to shower with the evening before the surgery to reduce bacterial count. The anesthesiologist will give intravenous antibiotics 30 minutes prior to cut time. Post-operative, the patients should keep the incision sites clean and free of water or moisture (especially with prosthetic implants). Post-operative oral antibiotics are given for 5-7 days and dressings should be left Untouched for the first 24 hours. No heavy lifting or straining of the surgical site for 4-6 weeks to prevent tearing, bleeding, hematoma or seroma formation. Please review ALL pre and post-operative instructions prior to entering the ambulatory center.
Here are a few things you can do:
Ask the surgeon if you should take antibiotics before the operation as a precaution against infection. Patients don't need them before all operations, but it's important to ask.
Never shave your surgical site yourself. It's tempting, especially because you're probably bored and it seems like common sense to give your doctors a clearer view of your skin. But shaving will leave you with thousands of tiny, invisible nicks that can increase your chance for infection, so let the team worry about defoliating you. For what you're paying for the surgery, believe me, it's included.
Enter the O.R. the way you entered the world. Naked. And I don't just mean nude. I mean no makeup, no nail polish, no fake eyelashes, no rings, no bracelets, no anything. Three fates can befall any detritus you have on your person during an operation: They can get lost, they can get in the way of the surgical team or they can get sewn inside you. Actually, when one happens, all three tend to happen, so make sure you go in there sans extras. Besides, these extras can also harbor bacteria.
Get some fresh air. Ask for supplemental oxygen during and after the operation. A study found that receiving oxygen reduced infections in patients by 39 percent. Not bad for just inhaling.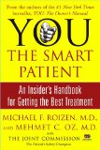 Continue Learning about Preventing Medical Errors