Of course you should ask your doctor several questions whenever he or she wants to give you a new medication or increase the dosage of a drug you're already taking. But you should also follow these three precautions to avoid mistakes and misunderstandings:
First, ask your doctor to please write clearly. Don't accept an illegible script that's written with scribbles and abbreviations that you can't understand. Doctors' bad handwriting isn't just the butt of jokes; there have been cases in which people actually died after their pharmacists misread the script and gave patients the wrong drug or dosage. Ask your doctor to please print clearly and write out all details instead of using any special shorthand—and then ask him or her to read the prescription out loud to you, so you'll have a fighting chance of translating it if necessary. If your doctor uses a computerized system to write prescriptions, still verify the name as someone likely had to read the doctor's handwriting at some point to enter it into the computer.
Secondly, ask your doctor to write down the purpose of the medication on the prescription. That will help reduce the risk of a mistake, as many drugs have similar names but much different uses.
Thirdly, as another safety measure, ask your doctor to write both the generic and the brand name of the drug on the prescription.
Finally, you should write down the medication instructions on your own notepad while at your doctor's office. Never trust your memory—or your doctor's script, which the pharmacist will keep—when it comes to instructions on how to take drugs. After having your doctor thoroughly explain the instructions to you, write them down yourself in clear terms that you'll understand.
Why should you do this, even when it seems wholly unnecessary? For one, a 2005 study found that people's brains play an evil trick on them that can be dangerous when mixed with drugs. After being given a very clear order—such as "don't take this pill in the evening"—they'll remember broad details (such as "pill" and "evening") but not the specific action that was requested. Guess what happens.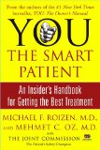 To avoid prescription errors when your doctor gives you a prescription, be sure you understand how the prescription reads. Ask the doctor what the medication is and how you are to take it.
When getting a prescription, there are several questions you should ask your doctor. It is helpful to have a good understanding of your medications. When starting a new medication, consider asking the following questions.
Why am I taking this medication?
How often should I take this medication?
How long will I be taking this medication?
Is there a certain time of day I should take this medication?
Can I take this medication with food?
There may be times when you pick up a medication from the pharmacy and realize that it costs too much. Sometimes there are medication options that are more affordable. If cost is a concern, and if it is the reason why you are not taking your medications, make sure to bring this up to the pharmacist and your health care provider at your next visit.
Trinity Health is a Catholic health care organization that acts in accordance with the Catholic tradition and does not condone or support all practices covered in this site. In case of emergency call 911. This site is educational and not a substitute for professional medical advice, always seek the advice of a qualified healthcare provider.
Continue Learning about Preventing Medical Errors