You can avoid prescription errors by: checking the prescription you are given before leaving the pharmacy counter; read the label and be certain the directions match what you were told by the doctor; if you were given pills, count them. Somone in the pharmacy will stand with you while you do this. More often than you know, errors are made and some pills could be missing; compare the prescription information paper given with your prescription to the medication in your hand. Be certain the picture of the medication matches what is in the container.When a liquid or other product is given, such as pain patches, check the package for the amount. If anything looks wrong, ask questions.
You should review several questions with your pharmacist before taking home your drugs. But while you're at the pharmacy, you should also check the label on your medication yourself and make sure you have the right drug and the right dosage, and, if it's a familiar med, that the pills look like the pills you've taken before. If anything seems iffy, holler.

If the medication is new to you, check the medication instruction sheet for a picture of the pills so you can compare it to the actual contents of the bottle. The instruction sheet is that white form that's usually stapled to the bag. Many pharmacies now have a picture of the pill with the number or lettering of that particular medication. Simply open up the container and make sure your pills match the information on those instructions.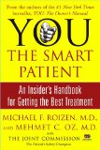 A pharmacy can be a busy place and privacy is often limited, but don't let that stop you from taking the time to check things out before you head home. As a pharmacist, I was never upset if someone questioned the instructions on the label or the name of the medication. Often, doctors will write a prescription for a brand name drug, but it will be subsituted with the generic name product -- that is very confusing to patients, so be sure to ask about that. We tell patients to check that these things are right: your name, drug name, dose, instructions, and quantity. Another tricky situation is when you are taking a generic drug from one manufacturer, but the next time you fill it, a different generic manufacturer is used. The tablets or capsules will look different, so ask if it is the same drug and dosage. It can be intimidating to ask the questions, but it can prevent errors. I have even questioned the medications given to my son at the emergency room, and I know I felt awkward doing so, but it made me feel better to know that things were correct.
Continue Learning about Preventing Medical Errors