You can reduce the chances for medication errors by being informed, being alert, being organized, and being aware of how your medications make you feel. You should be sure to:
When you are admitted to the hospital, bring all the medicines you are currently taking along with you so that your healthcare team can review them. Do not forget to bring over-the-counter medications, dietary supplements, and herbal remedies as well.
Know what the medicines given to you in hospital look and taste like. If either is different when your nurse brings them to you, ask why that might be. If you are not fully coherent and the nurse arrives with a medication, have a family member or friend look at them for you.
Know what ailments or conditions your medicines are treating. It is helpful to know both the clinical and consumer-oriented name for your condition(s).
Let someone on your care team know if your medicines make you feel different from what you expected.
Make sure your nurse or medication adminstrator checks your hospital wristband before giving you a medication. Your family members can also watch to ensure this happens.
Share your medication list with a friend or family member every time it changes. Make sure the list is dated, as your list of medications may change often.
Make sure you are not taking medications or dietary supplements from home without your healthcare team's knowledge.
Remember that some of the same drugs have different names, while some drugs have similar names but are different. Having a printed, legible list of your medications that includes generic and brand names is helpful in sorting this out.
Make sure care team members who bring medications for you are aware of any allergic reactions you have had to medicines in the past. Ensure your family members are aware of any drug allergies as well.
Many of these suggestions to keep medication use safe in the hospital can also be helpful when you are at home.
Nursing expert Jennifer Chaikin discusses how you can avoid medication errors while you are in the hospital. Watch Jennifer Chaikin's video for tips and information on nursing and over all health.
First and foremost keep a complete list of ALL medications (prescribed, over the counter, and herbs/supplements, if applicable) in your wallet. Have the doses and times you take these medications next to the name of each individual medication. Include medications that you may also take on an occasional basis such as Tylenol, Ativan, etc. I used to tell my patients to list their medications on a 3x5 card. Update this card every time something in your medical regime changes.
When the nurse enters the room you should be identified two ways: your name and birthdate (usually). The nurse will check these against your patient bracelet. Most healthcare facilities now scan doses of medications against a patient's record to ensure the right person is getting the right dose, time of medication, etc. This is a very important safety check and helps cut down on medication errors.
When the nurse is ready to give you medicine you have the right to question every medication including name, dose, reason, etc. You also have the right to be educated about every medicine you receive. If you don't feel a certain medication is appropriate it is also your right to question why you are receiving this medication. You do have the right to refuse medications, if necessary. Make sure if you refuse that a health care provider and you have an open dialogue about the necessity of the medications you have refused.
A family member should also be educated on your medications in case you are too ill to review what you were prescribed or have taken over the counter. It may also be a good idea for this person to carry a list of your medications in his or her own wallet.
Be a smart consumer, you are the center of care. A smart consumer is often a safe one.
Checking in? Use these tips to make sure that your friendly hospital stay — or your life - isn't ruined by a medication mistake. They can happen very easily in hospitals.
Take a complete list of all your medications with you when you go to the hospital, and make sure the nurses and doctors have it (and know they have it!) before you take any new medications.
Even if you're on a regular drug regimen, don't take any medication when you're in the hospital unless your doctor specifically authorizes it.
Have the doctor or floor nurse check your hospital ID bracelet before he or she gives you any medication, every time. She hands out 600 pills a night. More hospitals are using barcode scanners on I.D. bracelets to double-check prescription orders. In fact, the Joint Commission requires health care workers to use at least two patient identifiers when administering your medications (neither can be your room number) to make certain that they are providing the right medication to the right patient.
If you have to have a procedure or test that requires taking additional medicine or ingesting dye, remind your doctor, nurse, or technician of any allergies you have.
Before you leave the hospital, review any drugs you're still taking with the doctor, nurse, or pharmacist.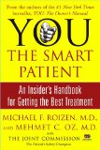 Continue Learning about Preventing Medical Errors