Patients are often their own worst enemies when it comes to dealing with prescription drugs. First of all, many just ignore or forget about them completely.

When you get a prescription, please fill the darn thing! About two in six prescriptions never get filled, because people think they really don't need the medicine. And a month later, I see them back in our office, sicker and contrite. I'm not writing prescriptions to practice my penmanship, you know.

And once you get the prescription filled, don't poop out on us. About half of patients who need drugs long-term stop taking their medications within six months of their last doctor visit. This is called "white coat non-compliance." Patients take their meds only as long as the doctor's white coat remains vivid in their minds. It's sort of like driving 53 mph for 20 minutes after the state trooper passes you on the highway.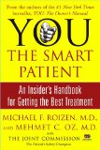 Continue Learning about Prescription Drug Adherence