Create a daily medicine routine. Create a written schedule, with space for each medication and when to take it (time of day, before, during or after meals), and keep it in a handy location where you can check off each dose as you take it. Or, purchase plastic daily/weekly pill organizers, available at most pharmacies, so that you will know at a glance if you have taken your meds.

If organizing your pills is difficult or stressful, consider asking your pharmacist to separate your pills into specific doses according to when they should be taken (morning, noon, dinner, bedtime) and to put them into smaller containers.

Keep medications in a decorative tin on a table near a favorite chair or couch. The tin acts as a reminder to take the meds while eliminating the unsightliness of a bottle-covered table -- and it's portable. Of course, if there are children in the house, you will want to keep all medications out of their reach.

If possible, keep several doses of medicine in your car, at your workplace and in your wallet or purse so you will never run out of important medication. Be sure to take this dose and replace it with fresh medication regularly.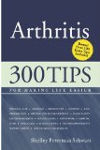 More About this Book
Arthritis
Arthritis: 300 Tips for Making Life Easier is a compendium of tips, techniques, and life-task shortcuts all learned from personal experience. Author Shelley Peterman Schwarz has lived with a chronic...
Continue Learning about Prescription Drug Adherence