During the preschool years, emotional development occurs as kids gain more control over their limbic system, which is basically the feeling center of the brain. Also, the frontal lobe is developing a lot more. Kids are learning to use more words. As their vocabulary expands, their ability to put emotional states into words also expands. This is when you start hearing not just "mad, sad, happy and scared", but words like "excited." Kids start understanding a little more that there is a difference between two feeling states.

Preschoolers start paying more attention to the feelings of others. Empathy starts to emerge. It is mostly in the context of their caregivers that they are able to read other people's feeling states. At this point, it may not yet happen with a complete stranger.
Continue Learning about Preschool Age Child Development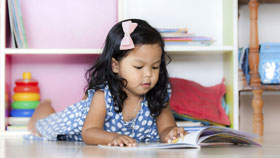 Your preschooler is developing and learning at a rapid rate. Experts agree that preschoolers need both structure and freedom in their early development. Routines, especially around mealtimes and bedtime, help children to eat more ...
nutritiously and sleep better. Encourage imaginative play, which advances cognitive development and creative thought while boosting physical development and interpersonal skills.
More