The following tips can help with your preschooler's development:
It's never too early to make sure that your child is active: playing tag, doing gymnastics, swimming, and learning to love the fun that comes from moving, stretching, jumping, and running. Activity is one of the greatest ways to combat childhood obesity. Make it a family-fun time.
Reinforce good manners. There cannot be too many please-and-thank-yous.
No TV in the bedrooms. No TV during meals. No TV as a replacement for real people.
Set a daily limit for TV and video games. (We recommend no more than 1 to 2 hours a day for children over age 2.) Instead of TV and the risk of inappropriate commercial messaging, we recommend child-friendly DVDs, such as The Magic School Bus and Sesame Street ABCs.
If your child is interested in computers or video games, limit him to a maximum of 1 to 2 hours of combined screen time a day (TV, video games, computers).
Puzzles = good fun and high learning.
Play fun games that keep your child active, like keeping the balloon off the floor or throwing socks at each other in the bedroom. Even a nice game of catch or hide-and-seek will do the trick. If you have a specific game that you like to play, be open to playing it another way. A child may not be able to play Candy Land by the rules, but if you sit back and watch and listen, he may choose another way to play that he enjoys just as much.
Teach your child his first and last name, your real names (other than Mommy and Daddy), and his telephone number (important) and address. A great way to help him memorize his phone number is to set it to the tune of the first line of "Twinkle, Twinkle Little Star."
Remember, this may be your last opportunity to spend such a high%age of time with your child; teachers and peers get big-time attention soon enough. Take advantage of it! Now's a great time to start talking about meaningful things: to communicate your own values to your child and to teach him about how he fits into this great, big, wide world.
Keep on reading to your child. Just because he's started school doesn't mean that your job as teacher is over.
Be careful not to overprogram. Leave some down time for rest and relaxation and independent play, especially with you. This is how kids develop social skills and learn to cope with conflict and stress.
Continue Learning about Preschool Age Child Development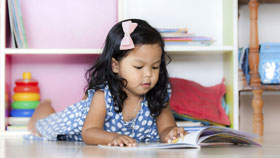 Your preschooler is developing and learning at a rapid rate. Experts agree that preschoolers need both structure and freedom in their early development. Routines, especially around mealtimes and bedtime, help children to eat more ...
nutritiously and sleep better. Encourage imaginative play, which advances cognitive development and creative thought while boosting physical development and interpersonal skills.
More