There are many ways to help your kids learn to play alone and entertain themselves. Here are boredom busters to try:
Learn to Be Alone. A word to the wise: if your kids come back after two minutes of alone time, you may need to first teach your kids how to enjoy their own company. The truth is some of our kids actually need to learn how to play alone. So start by thing of age-appropriate activities that your child could "do alone." (For a young child: doing a puzzle; for an older kid: learning to play Solitaire). Then teach your child the "solo activity using the baby step model: First show how to do the game together. Next, watch and guide to ensure he knows the rules. Finally, wean him from you being there until voila! – You step back and your child is playing alone.
Build It In. The reality is you still have to be the boss of free play. At first your kids aren't going to run off like Tom Sawyer. Put up a calendar where you and your kid mark in regularly scheduled summer activities (like days at summer school, camp, sports or swim lessons). Keep some hours open and point out that those are times when your kid is "free" and on his own.
Set Unplugged Rules. Set a specific limit for TV or video game viewing. Keep in mind that the average kid aged 8 to 17 is plugged into some kind of electronic device at least 7 ½ hours a day, so wean your kid away from those video games. Your first step is to assess just how often your child is "plugged in." Decide a maximum time allotment and then post those rules ASAP so your kid is clear of those expectations. If not, you may end up with coach potato.
Wean Away From You. Of course a toddler can't occupy his time alone – nor do you want him to. But you will want to gradually start your child weaning away from needing you 24/7 when you see he or she is ready to learn those independent skills. Start with "I'll be back in one minute—I can't wait to see what you drew when I return. Surprise me!" Then keep your word, and keep increasing alone time. (You can still be in the room for a young child – just not always managing his every move).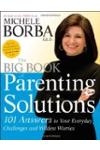 Continue Learning about Preschool Age Child Development