While you're busy with your pregnancy-related doctor's appointments, don't forget about the rest of your health upkeep -- including your teeth. Contrary to the popular misconception that pregnant women should skip their regular dental visits, dental hygiene during pregnancy is very important. In fact, some studies link poor dental hygiene with preterm labor. However, be sure to tell your dentist that you're pregnant. Avoid X-rays, if possible.
Yes, it is safe to visit the dentist when pregnant. In fact, you should continue to see your dentist during pregnancy for oral examinations and professional teeth cleanings. Tell your dentist that you are pregnant and about any changes you have noticed in your oral health. Good daily care is key to your oral health. To help prevent tooth decay and gum disease, always brush your teeth twice a day and clean between your teeth once a day, eat a balanced diet and limit between-meal snacks.
Make sure you have an oral fixation for at least a few minutes a day to help prevent infections that could spread to your child.
Visit your dentist at least once during pregnancy (and make sure to get regular prenatal care) to reduce the risk of infections. Even better -- visit your dentist twice in the year before you are likely to get pregnant. Remember, since 50 percent of pregnancies are unexpected, this may simply mean visiting your dentist regularly.
Brush at least twice a day for two minutes and floss once a day.
Avoid sugary foods (they feed the bacteria and cause a big old plaque build-up) and eat foods that help maintain healthy gums and teeth. They include foods with lots of calcium, Vitamin B12, and vitamin C.
Rinse your mouth out with water to help counteract any unpleasant taste you may be experiencing from nausea or morning sickness.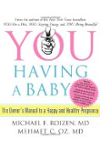 No matter what, do not avoid going to the dentist when you're pregnant. (In fact, you ought to go regularly every six months before, during, and after your pregnancy.) Ideally, you should address all tooth and gum issues before you conceive, but if something crops up when you're pregnant, do not hesitate to treat it. Even dental x-rays are okay when you're pregnant, as long as you wear a lead shield to protect everything below your jaw. Gum disease is potentially more dangerous to your fetus than the risk of an x-ray.
You should continue to see your dentist for cleanings and exams while pregnant. Any needed dental work should be done during the second trimester. Dental work may be done during the other trimesters only if it is an emergency. Consult your dentist and medical doctor if you have concerns about dental work and pregnancy.
Continue Learning about Pregnancy and Oral Health