The placenta is delivered during the third stage of labor. The third stage of labor incorporates the time from the delivery of the infant to the delivery of the placenta. During this stage, the uterus rises upward in the abdomen as the placenta detaches from the uterine wall. A sudden trickle or gush of bright red blood appears as the placenta separates from the uterine wall. The uterus assumes a globe shape as the placenta is delivered and the third stage of labor is completed.
Delivering the placenta, or afterbirth, completes the birthing process. At some time between five and thirty minutes or so after the baby is born, the placenta may be ready for delivery. A gush of blood will leave your body and the umbilical cord will seem to lengthen.
Women usually feel a contraction or a cramping sensation at this time. You may need to push again to expel the placenta, which has separated from the uterine wall. Since the placenta is soft, it will feel easier to push out than the baby's head. It's important that your provider not pull on the placenta before it has separated from the uterine wall.
Once the placenta comes out, blood vessels close off. Your uterus contracts and begins to shrink. Early breast-feeding helps with this process: Your baby's sucking stimulates oxytocins, which causes your uterus to contract to expel the placenta and to stay contracted afterward, reducing any bleeding.
Some people view the placenta as a beautiful organ, with its pattern of blood vessels resembling a tree of life. Many cultures have rituals surrounding the afterbirth, including planting trees or flowering bushes above it. If you want to see and/or keep the placenta, let your birth attendants know in advance, and find out about any necessary procedures.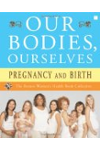 More About this Book
Our Bodies, Ourselves: Pregnancy and Birth
ALL THE INFORMATION YOU NEED TO MAKE WISE DECISIONS ABOUT YOUR PREGNANCY AND THE BIRTH OF YOUR CHILD -- FROM THE EDITORS OF THE CLASSIC "BIBLE OF WOMEN'S HEALTH" Pregnancy and birth are as ordinary...
Continue Learning about Pregnancy Complications