Babies born at 22 weeks or less almost never survive more than a few hours after birth. Between22 and 24 weeks of gestation, most babies do not survive, and almost all who do have serious, crippling health conditions. At 24 weeks, about half of the preemies survive, but many will have severe, long-term health problems. It is rare that babies are born in the sixth month of pregnancy, but if you are in this situation, it is important that you and your family are involved in planning what will happen at the birth and what efforts will be made to care for your baby. Sometimes there is a conflict between what health care providers advise and what parents want. For example, you may not want a breathing tube and CPR (cardiopulmonary resuscitation) for a baby who has a minimal chance of surviving - you may prefer just to keep the baby comfortable. Because doctors are trained to do everything they can to save the baby, you may need to speak up about your preference. Or, you may want all efforts made to save the baby, even when the pediatricians think your newborn has no chance of survival. Health care providers and hospitals are constrained by local laws and standards of care. State and federal laws are not all the same regarding parents' and doctors' rights to decide whether or not to revive extremely premature infants. If you experience preterm labor at between 22 and 24 weeks, ask to speak about your options with the pediatrician on call as soon as possible. If there is time, you can also ask for an ethics consultation, at which the hospital team of nurses, doctors, and social workers who help parents and physicians with difficult decisions will be made available to you.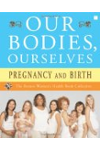 More About this Book
Our Bodies, Ourselves: Pregnancy and Birth
ALL THE INFORMATION YOU NEED TO MAKE WISE DECISIONS ABOUT YOUR PREGNANCY AND THE BIRTH OF YOUR CHILD -- FROM THE EDITORS OF THE CLASSIC "BIBLE OF WOMEN'S HEALTH" Pregnancy and birth are as ordinary...
Continue Learning about Pregnancy Complications