Pregnant women who have hyperemesis gravidarum experience severe morning sickness symptoms; they can't keep anything down and can get dangerously dehydrated. Watch OB/GYN specialist Lauren Streicher, MD, describe the risks of this rare condition.
If you're unable to take and keep down and liquids for more than 24 hours, it may be a sign that you suffer from a condition called hyperemesis (meaning, you vomit a lot). It's a fairly rare condition (happens in about 1 to 2 percent of pregnancies), and some women who suffer from it have to be admitted to the hospital to be rehydrated. Nobody knows the cause, but risk factors include multiple pregnancies, diabetes, hyperthyroidism, and women with a history of motion sickness. The point: Not all sickness is a "ride it out" kind of problem, and if you sense something feels off with your nausea, it's worth checking out.

Severe nausea can also be a sign of a molar pregnancy.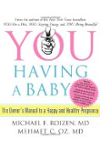 Hyperemesis gravidarum is an extreme case of morning sickness. Hyperemesis gravidarum is characterized by dehydration and weight loss.
Continue Learning about Pregnancy Complications