Pre-eclampsia is a pregnancy disorder of widespread vascular endothelial malfunction and vasospasm that appears after the 20th week of gestation and may occur up to six-weeks post-partum. It is defined by the presence of hypertension, and proteinuria.
Hypertension: An increase in blood pressure above the woman's baseline values: more specifically two BP readings of 140/90 mm Hg or greater taken 6 hours apart within a one-week period. Also, an increase of 30 mmHg in the systolic reading and 15 mmHg in the diastolic reading is considered important to note.
Proteinuria: Proteinuria is defined as the presence of at least 300 mg of protein in a 24-hour urine collection. While more convenient and easer to perform, a urine dipstick is not a diagnostic criteria. However, urine protein of 1+ or greater is important to note.
Women with Pre-eclampsia often do not feel sick. However, a symptom that the woman may notice is significant edema beyond the dependent edema of the feet and ankles frequently experienced in late pregnancy. The type of edema that is seen in pre-eclampsia is a result of the hypertension and proteinuria and includes:
Swelling of the hands and face/eyes
Weight gain - More than 2 pounds per week or a sudden weight gain over one to two days
The onset of pre-eclampsia may be gradual or sudden. Women who notice sudden onset of edema need to contact their healthcare provider.
Sometimes pre-eclampsia (a condition characterized by high blood pressure and kidney problems) is not diagnosed during pregnancy, because the woman has not developed signs of the condition. The symptoms can develop during labor or after a woman has given birth. If you have a terrible headache or vision problems during labor and delivery, or right after the baby's birth, and your blood pressure is elevated, your provider should test your blood for liver or kidney abnormalities and your urine for protein.
If you have pre-eclampsia, you should be treated with an intravenous solution of magnesium sulfate, to prevent convulsions (eclampsia) from developing. After you give birth, the hospital may keep you under close observation for a while, just to make sure you do not have convulsions.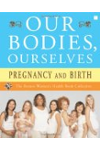 More About this Book
Our Bodies, Ourselves: Pregnancy and Birth
ALL THE INFORMATION YOU NEED TO MAKE WISE DECISIONS ABOUT YOUR PREGNANCY AND THE BIRTH OF YOUR CHILD -- FROM THE EDITORS OF THE CLASSIC "BIBLE OF WOMEN'S HEALTH" Pregnancy and birth are as ordinary...
Symptoms of preeclampsia may include:
severe headache
right sided upper abdominal pain
vision changes
nausea/vomiting
decreased urine output
elevated blood pressure
excess protein in the urine
low platelet count
impaired liver function
Continue Learning about Pregnancy Complications