While it may seem like it's no big deal for your baby to pack a few extra pounds on at birth, having a big baby (often caused when the mom has gestational diabetes) can pose risks for you and your child.

First, husky babies make more fat cells in utero. So now, the big baby is not only prone to being overweight as a child, but he's also prone to storing fat as he gets older.

He may also be more likely to overeat throughout his life. Big babies learn to forecast their future environments while in your belly. Too many calories conditions them to expect overabundance and to indulge in a fat-filled life that comes with all of the fixings that complicate it.

Your OB may want to deliver a bit earlier than the due date if she thinks the baby is getting too big for your britches. And because lung development may not be complete if the baby is delivered early, premature delivery places him at risk for breathing problems after birth. You're also opening yourself up to more potential complications at birth like stalled labor and cesarean section.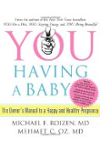 Continue Learning about Pregnancy Complications