If you have a high-risk pregnancy or a history of premature labor, it's best to abstain from sex. Otherwise, intercourse is safe for pregnant couples. And the orgasms of pregnancy may be some of your most intense. The hormone oxytocin is released during an orgasm (it also increases during breast stimulation). Oxytocin can also cause uterine contractions when you're close to your delivery date. (According to some research, it's actually possible -- although rare -- to have an orgasm while you're giving birth!) But that doesn't mean that climaxing will lead to early labor or a miscarriage. Although some research suggests that orgasmic contractions may trigger la­bor, newer studies have found that climaxing during intercourse has no effect on childbirth and may even protect against premature delivery.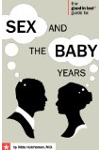 More About this Book
The Good in Bed Guide to Sex and the Baby Years
Available at a substantial discount for a limited time only, thanks to support from K-Y(R) Brand!Once you get down to the business of baby-making, the advice will pour in: books, magazines, in-laws,...
Continue Learning about Pregnancy Complications