In rare instances, the placenta implants abnormally, often in a scar from a previous cesarean section or other surgery on the uterus. The placenta can then grow into this scar and occasionally even through the wall of the uterus into other organs, such as the bladder. These abnormalities in attachment of the placenta are called placenta accreta, placenta increta, and placenta percreta, depending on the depth of invasion of the uterine wall. Placenta accreta, the most common of these serious complications, is becoming more common and now is discovered in about one in every twenty-five hundred births. The increase is thought to be related to the increase in the rate of cesarean sections. Abnormal attachments of the placenta are also seen more commonly with placenta previa.
The diagnosis of these conditions can now often be made by ultrasound or magnetic resonance imaging (MRI) during pregnancy. The abnormal attachment makes the placenta very adherent to the uterine wall so that it is difficult to remove after birth. If implantation problems are not diagnosed before birth, severe hemorrhaging can occur during and after birth. Your provider will attempt to stop the bleeding with a variety of interventions such as blood transfusions and exploratory surgery with the goal of avoiding a hysterectomy.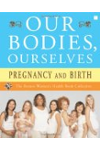 More About this Book
Our Bodies, Ourselves: Pregnancy and Birth
ALL THE INFORMATION YOU NEED TO MAKE WISE DECISIONS ABOUT YOUR PREGNANCY AND THE BIRTH OF YOUR CHILD -- FROM THE EDITORS OF THE CLASSIC "BIBLE OF WOMEN'S HEALTH" Pregnancy and birth are as ordinary...
Continue Learning about Pregnancy Complications