Prediabetes is serious because it means you are at risk of developing type 2 diabetes. Studies show that about one in nine people with prediabetes go on to develop type 2 diabetes in the next three years. Other studies find that many people with prediabetes will develop type 2 diabetes over the next 10 years. People with prediabetes are also 50% more likely to develop heart disease or stroke compared with people without prediabetes. Fortunately, losing a modest amount of weight (10 to 15 pounds in many cases) and exercising regularly, such as walking 30 minutes a day for five days or more a week, can substantially reduce the risk that your prediabetes will proceed to type 2 diabetes.

If you don't get rid of your prediabetes -- even if it never turns into diabetes -- you still have a serious condition that can set you up for many of the same complications of diabetes, such as heart disease, retinopathy, and neuropathy. Your heart disease risk is particularly high if you have some of the other conditions that often tag along with prediabetes, such as high blood pressure, insulin resistance, a big belly, high triglycerides, and low high density lipoprotein (HDL) -- "good" cholesterol. If you have three or more of these conditions, you have metabolic syndrome or insulin resistance syndrome. Metabolic syndrome often goes hand in hand with prediabetes.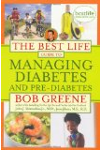 It is estimated that 35 percent of Americans adults have prediabetes. Those with prediabetes do not have blood glucose levels high enough to be classified as full-fledged diabetes but are on the road to developing it in the future.
Studies show that those with prediabetes who lose weight and increase their physical activity can either prevent diabetes by having their blood glucose levels return to normal, or at least, delay the onset of Type 2 diabetes. The American Diabetes Association recommends meeting with a registered dietitian for dietary guidance in both managing and preventing diabetes. Visit: www.eatright.org to find a dietitian in your area.
Continue Learning about Prediabetes