While the current recommendation is for healthy Americans to consume 4,700 milligrams of potassium daily, males are consuming only 3,200 milligrams daily, whereas females fall even shorter, consuming only 2,400 milligrams a day, on average.
The good news is that potassium is found in a variety of foods, with vegetables, fruits, low fat dairy foods, and beans being potassium powerhouses:
Potato, baked including skin, small, 738 mg
White beans, ½ cup, 595 mg
Yogurt, nonfat, plain, 579 mg
Sweet Potato, baked with skin, medium, 542 mg
Orange juice, 1 cup, 496 mg
Halibut, cooked, 3 ounces, 490 mg
Soybeans, cooked, ½ cup, 485 mg
Cod, cooked, 3 ounces, 439 mg
Banana, 1 medium, 422 mg
Spinach, cooked, ½ cup, 370-419 mg
Tomato sauce, ½ cup, 405 mg
Milk, skim, 1 cup, 382 mg
Apricots, dried, ¼ cup, 378 mg
Soy milk, 1 cup, 372 mg
Kidney beans, cooked, ½ cup, 358 mg
Most Americans have a potassium-to-sodium (K:Na) ratio of less than 1:2. In other words, they ingest twice as much sodium as potassium. However, experts believe that the optimal dietary potassium-to-sodium ratio is greater than 5:1 -- ten times higher than the average intake. But, even this may not be optimal. A natural diet rich in fruits and vegetables can easily produce a much higher K:Na ratio because most fruits and vegetables have a K:Na ratio of at least 50:1. For example, here are the average K:Na ratio for several common fresh fruits and vegetables:
Apples 90:1
Bananas 440:1
Carrots 75:1
Oranges 260:1
Potatoes 110:1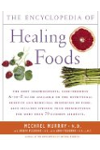 More About this Book
Encyclopedia of Healing Foods
From the bestselling authors of The Encyclopedia of Natural Medicine, the most comprehensive and practical guide available to the nutritional benefits and medicinal properties of virtually everything...
Continue Learning about Potassium