While the current recommendation is for healthy Americans to consume 4,700 milligrams of potassium daily, males are consuming only 3,200 milligrams daily, whereas females fall even shorter, consuming only 2,400 milligrams a day, on average. The good news is that potassium is found in a variety of foods, with vegetables, fruits, low fat dairy foods, and dried peas and beans being potassium powerhouses:
Potato, baked including skin, small, 738 mg
White beans, ½ cup, 595 mg
Yogurt, nonfat, plain, 579 mg
Sweet Potato, baked with skin, medium, 542 mg
Orange juice, 1 cup, 496 mg
Halibut, cooked, 3 ounces, 490 mg
Soybeans, cooked, ½ cup, 485 mg
Cod, cooked, 3 ounces, 439 mg
Banana, 1 medium, 422 mg
Spinach, cooked, ½ cup, 370-419 mg
Tomato sauce, ½ cup, 405 mg
Milk, skim, 1 cup, 382 mg
Apricots, dried, ¼ cup, 378 mg
Soy milk, 1 cup, 372 mg
Kidney beans, cooked, ½ cup, 358 mg
The estimated safe and adequate daily dietary intake of potassium is 1.9 to 5.6 g. If body potassium requirements are not being met through diet, supplementation is essential to good health. This is particularly true for the elderly and the athletic. Potassium salts are commonly prescribed by physicians in the dosage range of 1.5 to 8.0 g per day. However, potassium salts can cause nausea, vomiting, diarrhea, and ulcers. These effects are not seen when potassium levels are increased through diet alone. This highlights the advantages of using juices, foods, or food-based potassium supplements to meet the human body's high potassium requirements.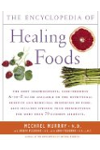 More About this Book
Encyclopedia of Healing Foods
From the bestselling authors of The Encyclopedia of Natural Medicine, the most comprehensive and practical guide available to the nutritional benefits and medicinal properties of virtually everything...
Continue Learning about Potassium