Sometimes, a lower libido is just the tip of the iceberg. Rapidly decreasing hor­mones may cause you to feel weepy after giving birth. An event that should fill you with joy leaves you with tears and anxiety. Fortunately, these feelings typically resolve within a few weeks of giving birth. If they last longer, you may have postpartum depression (PPD), a true libido killer. About 20 percent of women ex­perience PPD, which can occur any time in the year or so after they give birth. Watch for signs like sad­ness, lack of energy, trouble concentrating, anxiety, and feelings of guilt and worthlessness. Adjusting to the new normal of parenthood is tough for guys, too: Although there's not much research on this subject, PPD may affect 25 to 50 percent of new fathers, par­ticularly those who are stay-at-home dads or whose partners are also experiencing PPD. For both women and men, counseling, support groups, and medicines help address PPD.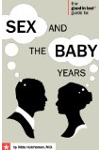 More About this Book
The Good in Bed Guide to Sex and the Baby Years
Available at a substantial discount for a limited time only, thanks to support from K-Y(R) Brand!Once you get down to the business of baby-making, the advice will pour in: books, magazines, in-laws,...
Continue Learning about Postpartum Depression