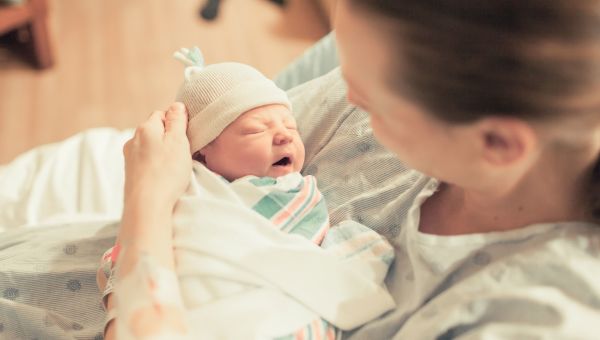 Zulresso works quickly—in some cases, within 24 hours.
The U.S. Food and Drug Administration (FDA) has approved the first drug designed specifically for postpartum depression (PPD), a serious condition that causes intense and prolonged feelings of depression during pregnancy or after birth that can linger for months or more if left untreated. The newly approved drug, called brexanolone, which will be sold as Zulresso, offers new hope for the nearly 400,000 women who develop PPD each year.
Until now, many women with PPD who don't respond to lifestyle adjustments and talk therapy alone have relied on oral antidepressants, which can take a few weeks to be most effective. Zulresso works quickly—in some cases, within 24 hours—but it must be delivered through an IV as part of a carefully monitored program.
It's not entirely clear how Zulresso helps, but one theory is that it helps the brain adjust to hormonal changes, such as the sudden drop in progesterone levels women experience after they give birth.
Those struggling with PPD who may benefit from the drug may not have to wait very long. The maker of the drug, Sage Therapeutics, announced it will be available to consumers by June 2019.
"This approval marks the first time a drug has been specifically approved to treat postpartum depression, providing an important new treatment option," said Tiffany Farchione, MD, acting director of the Division of Psychiatry Products in the FDA's Center for Drug Evaluation and Research, in the official March 2019 press release from the FDA.
The FDA gave Zulresso a green light following controlled clinical studies, involving women between 18 and 45 years old who had given birth within six months and developed signs of PPD between the third trimester of their pregnancy and up to four weeks after they delivered. The trials showed that the drug was significantly more effective than the placebo in easing the women's PPD symptoms after their first infusion and for 30 days afterwards.
Here's what you need to know about this new treatment option and how it may help those with PPD.
Zulresso must be administered by a doctor
Women prescribed Zulresso by their doctor will receive it through a 60-hour IV infusion. The drug will only be available through a restricted program, known as the Zulresso Risk Evaluation and Mitigation Strategy (REMS) Program, which requires that the drug be administered by a healthcare provider in a certified healthcare facility, specifically, a hospital or infusion clinic, according to the FDA.
During this time, women will be monitored for side effects, such as sudden loss of consciousness and excessive sedation. New moms can see their babies during this time, but their children must be accompanied by an adult.
Zulresso is not for everyone
Most non-pregnant mothers with PPD are eligible for this treatment, but you should talk to your doctor about the risks and benefits if you:
Are breastfeeding or are planning to breastfeed
Drink alcohol
Have kidney problems
It's important to tell your doctor about any prescription or over-the-counter medications (especially other antidepressants), vitamins or herbal supplements you're taking prior to treatment, as some can interfere with treatment or cause serious side effects. If you have end-stage renal disease, Zulresso is not recommended for you. Also tell your doctor if you become pregnant again before receiving the drug, as animal studies suggest Zulresso could harm a developing fetus.
The cost of the newly approved drug may also be an issue for some patients. Without insurance, the price tag for Zulresso will range between $20,000 and $35,000, not including your clinic stay. Insurance companies are still evaluating the drug and have not yet released information about whether or not the drug will be covered. If your doctor advises you to consider taking Zulresso, be sure to contact your insurance carrier to learn what your individual cost for the treatment will be.
How to recognize PPD
Many new moms tend to have a lot on their plates. Aside from recovering from delivery (whether vaginal birth or C-section), some women may struggle with breast or bottle feedings, changing diapers and other parenting tasks while trying to squeeze in some sleep.
It's important to be aware of your individual risk factors for postpartum depression, which could help you recognize the difference between normal anxiety associated with the hormonal fluctuations and the major life change (also known as the "postpartum blues") and warning signs of the condition.
The exact cause of PPD is not known, but some women are more susceptible than others, including those who had a hard time getting pregnant, have a personal or family history of depression, experienced pregnancy or birth complications or have a child who was hospitalized after birth. A shift in hormone levels post-pregnancy, specifically the levels of estrogen and progesterone, may also contribute to PPD. Women who lack support from family and friends or experience a stressful life event, like a family illness or the recent loss of a loved one, are also at greater risk.
While PPD is different for everyone, signs of the condition are similar to those associated with major depressive disorder. Women who have PPD are likely to experience a variety of symptoms, like:
Feeling sad, hopeless, empty or overwhelmed
Crying more often than usual
Feelings of anger
Withdrawal from family and friends
A feeling of disconnect from the baby
Worrying that they may hurt their baby
Feeling guilty about not being a good mom
Suicidal thoughts
Seeking help for PPD is essential
Symptoms of PPD usually occur one to three weeks after delivery, but they may arise up to a year after giving birth. If you think you may suffer from postpartum depression or if you develop any of the warning signs associated with the condition, it's important to talk to your doctor right away. Untreated PPD can make it harder to properly care for your child and in more extreme cases, can cause feelings of suicide or thoughts of harming your baby. If you're feeling like you want to hurt yourself or your baby, call 9-1-1 immediately.
Whether your healthcare provider recommends Zulresso or other depression treatments, like oral antidepressant medications or talk therapy, there are many effective ways to combat the symptoms. Your doctor will work with you to determine what type of therapy or medication is right for you.
Medically reviewed in March 2019.