Assuming we can rely on our stomach to tell us how much food to eat is one of our main misconceptions. Judging from the feeling in our stomach after we've eaten a reasonable portion, we often think we're still hungry, so we eat more. But the feeling of satiation doesn't register right away after we've eaten, and for some people, it never registers.

There are different degrees of hunger. If you're tummy-rumbling hungry, that's a trustworthy sign that it's time to eat a meal. But when you've already eaten, using the feeling in your stomach to tell you how much more to eat or when to stop is an unreliable gauge. Sometimes the more we eat, the hungrier we feel!

If the body were good at telling people when to stop eating, there wouldn't be so many obese people around. Although the sensations in your stomach might be a gross measure of whether you're hungry enough to eat a meal, they don't tell you when to put on the brakes. Let portion size, rather than the feeling in your stomach, determine how much you eat.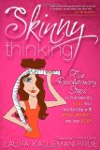 Stop multitasking and eat slowly so your body's natural signals can kick in telling you to stop eating, enjoy meals on smaller plates, and order half portions at restaurants when possible. And most importantly, the signal "I'm finished, the meal is over" should come from you internally, not external cues like the food finally being gone, or when your dinner mates clear their plates.
Continue Learning about Portion Control