An easy way to limit portions is to use smaller dishes and bowls. Try using dessert bowls for your breakfast cereal and dessert plates for your regular meal plates. Your dish will look fuller, so you won't feel like you're skimping on meals.

Also, limit the size of your snacks. Don't eat your snacks right out of a large bag. Even most smaller snack bags contain more than one serving. Use the small "fun-size" snack bags offered for Halloween trick-or-treaters or get some resealable plastic snack size bags and make your own snack sizes for your favorite treats.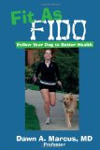 More About this Book
Fit As Fido: Follow Your Dog to Better Health
Let your dog teach you to live a happier, healthier, and more fulfilling life! Companionship with your pet can be used as a means and a motivator to increase your own physical and mental fitness....
Remember moderation, always. Here are 5 tips:
1. Never "Supersize" any meal when eating out or at home.
2. Keep in mind that 3 oz of meat is about the same size as a deck of cards. 1/2 cup of fruit, vegetable, pasta, rice or dessert equals the size of a tennis ball. 1 oz of cheese is equivalent to 4 dice.
3. Fill 1/2 your plate with fruits and vegetables; 1/4 with meat and 1/4 with starch.
4. Avoid eating from the "bag" because you will overeat-instead, read the label, find out what the portion size is and portion it out. Put the bag back in the cupboard before eating the item.
5. Don't eat when you are not hungry. If you are bored, call a friend or go for a walk instead of binging.
Continue Learning about Portion Control