Biologic drugs including rituximab and tumor necrosis factor alpha (TNF) inhibitors are being further studied for treatment of polymyositis. Interferon alfa-2a is also under investigation.
Scientists are studying various new approaches to treating polymyositis. For example, ongoing clinical trials are testing whether people with polymyositis benefit from the drug rituximab, which is usually used in treating cancer and rheumatoid arthritis. Researchers also know that a glitch in the way certain genes behave is associated with this disease. Developing medications that correct this problem could treat polymyositis.
Continue Learning about Polymyositis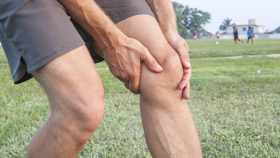 Polymyositis affects skeletal muscles on both sides of the body, usually affected adults between 31 and 60 years old. People with polymyositis may also experience arthritis, shortness of breath, difficulty swallowing and speaking ...
and heart arrhythmias. Treatment options include medication, exercise, heat therapy, physical therapy, orthotics and assistive devices and rest.
More